Le Club Golf becomes the latest European partner to collaborate with the world's largest reciprocal Network (November 2021) – As the Links2Golf Network (L2GN) continues to grow its global portfolio, it has confirmed LeClub Golf, as part of its reciprocal golf course network.
Members of clubs within this network gain access at discounted rates to golfing facilities across L2GN comprehensive portfolio, consisting now of over 700 clubs in 53 countries, including the likes of 2018 Ryder Cup venue, Le Golf National, France, and London Golf Club, UK.
The LeClub Golf Network brings a strong presence in France, with more than 155 golf courses (including 49 UGOLF courses) and in Spain, with more than 45 golf courses. Additionally, LeClub Golf brings properties in Germany and Belgium. Also created by LeClub Golf, the Amateur Golf World Club (AGWC) which provides a very ambitious coming together of the best amateur golfers from 26 nations each year.

Bruno Lelieur, Director, LeClub Golf commented: "Links2Golf Network provides an opportunity for all clubs, as we look towards enhancing our international appeal and providing our members with a unique relationship to increase their benefits. I'm confident that if we increase the knowledge of our club features within the Links2Golf Network market, this will reap rewards and simultaneously provide a boost for the golf market in Europe."
"LeClub Golf is well known in Europe, and to have their clubs come on board and join our growing golf network, is outstanding. Each club has unique attributes and we are looking forward to hearing the positive feedback from our network golfers," said Richelle Nemeth, Chief Operating Officer for Links2Golf International.

Feature Network Destinations include:
Chateau des Vigiers, France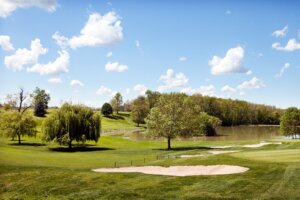 Dating back to the 16th century and set amidst the famous vineyards of this beautiful and unspoiled region, Château des Vigiers is an internationally renowned luxury Hotel, Golf and Spa situated in the Dordogne Périgord region of South West France.
The centerpiece of this grand resort is a spectacular 27-hole golf course. The course opened in 1992 and was designed by Donald Steel, who is considered one of the very best "natural" golf course architects. Arranged in three 9-hole loops, giving three 18-hole combinations, the golf course was rated in the top ten courses in South West France. Conveniently located just 25 minutes from Bergerac Airport and about an hour east of Bordeaux, Chateau des Vigiers offers its guests two uniquely different hotel experiences, tailored to individual tastes and requirements. Whether you want to tour the world-famous vineyards of Bordeaux and Saint-Emilion, play golf on the impressive 27-hole course, enjoy the region's finest food and wine, or be pampered in the Maria Galland Beauty Spa, you will be able to escape the fast-pace of everyday life in this secluded and tranquil setting.
Penha Longa Resort, Portugal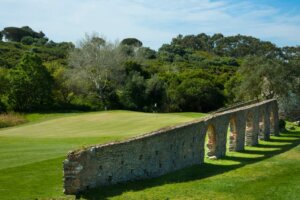 Ranked in the top 30 Courses in Continental Europe, the 27-hole course at Penha Longa Resort designed by the famed Robert Trent Jones, Jr. is escapist golf at its best.
With several fantastic golf resorts and golf courses, Portugal is one of the most popular countries in the world for a golf holiday. Golfers may instantly turn to the popular region of the Algarve, however, Portugal boasts many hidden gems near its capital city of Lisbon, of which Penha Longa is one and is located only 30 minutes' drive away.
Penha Longa Resort offers three different circuits: Atlantic Championship, Atlantic North and Atlantic South, providing completely different experiences.
The Atlantic Championship course is a standout design, taking advantage of the steeply sloping terrain and excellent views of the surrounding landscape. Six of the holes are situated in the valley, whilst the other holes have been built on a hill offering stunning views of the Sintra Hills.
Aside from the superb golf offering, Penha Longa Resort features a 5* Ritz Carlton hotel, eight innovative dining options including two Michelin Star restaurants, a Thai-inspired spa and many more on-site facilities to satisfy even the most discerning guest.

About Links2Golf Network
Links2Golf Network operates the world's most comprehensive reciprocal golf course network. Links2Golf Network provides access to a broad collection of quality golf clubs worldwide. Since 2020, the Links2Golf Network of Reciprocal clubs has grown to over 700 properties located in 53 countries around the world. The Links2Golf Network serves a population of over 250,000 network golfers from participating clubs and resorts. The main feature of a Links2Golf partnership is the opportunity to offer reciprocal access to their own members while creating revenue in need periods.
In doing so, L2G provides an opportunity for participating clubs and resorts to realize new inbound revenue from our Network golfers as well as providing a very robust outbound benefit to their members.

Media Contacts:
Links2Golf Network, Richelle Nemeth, +1 437 747 6300, rnemeth@links2golf.com